Mascot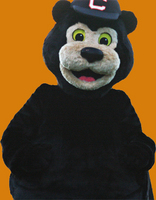 The Cowlitz Black Bears mascot is Corby, a lovable Black Bear that roams the stands and participates in some on-field activitiesduring games.
Corby loves meeting and playing around with fans, but he's pretty mischevious as well. He likes to move chairs around during musical chairs. Corby also loves to dance and show off his air guitar skills.
If you see Corby around, don't be afraid to say hi to him; he's a friendly Black Bear.
Want Corby to show up to your event?
Contact the Office at info@cowlitzblackbears.com or (36) 703-3195.