News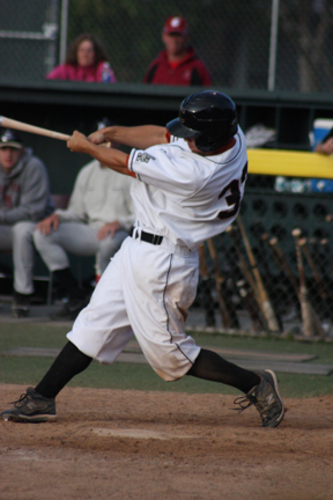 (Longview, WA) - The Wenatchee Applesox, in their first visit to David Story Field, scored in all but three innings to take the 9-4 West Coast League victory over the Cowlitz Black Bears (13-28-1, 10-27 WCL) in front of 1,222 fans on Tuesday night.
Cowlitz started the scoring in the second, plating one on a couple of hits followed by a ground out and a fielder's choice. Designated hitter Mike Turay (Nevada, So.) led off the frame with a single to left, followed by catcher Zach Tanida's (Cal State Fullerton, Jr.) single to right. A ground out by second baseman Jason Mahood (San Francisco, CA), moved the runners to second and third. Third baseman Spencer Ofelt (Western Nevada, So.) hit a sharp grounder to Wenatchee's shortstop, who fired to third to get the out on Tanida, but Turay scored on the play.
But that lead would be short lived as the Applesox scored eight runs over the next five innings and added one in the ninth. An RBI single from shortstop Michael Hoo (Cal Poly, Fr.) gave the Bears their second run in the sixth, and an inning later, Cowlitz added two more. First baseman Jordan Fox (UC Irvine, So.) led off the frame with a single to right. Right fielder Ryan Sheeks (Concordia, Jr.) reached on an error by Wenatchee's third baseman Trevor Brown. A walk to Turay loaded the bases. Another error, this time by shortstop Eric Lane allowed Fox to score, and an out later, Sheeks scored on a wild pitch from Todd Griffiths.
Bears' starter Kirk Lind (Western Oregon, So.) took the loss (2-3), giving up six runs (five earned) off seven hits and five walks, and struck out three in 4.1 innings. Zack Weiss (2-0) earned the win, allowing one earned run off five hits and a walk, and struck out four in 5.0 innings.
Fox led the Bears at the plate, going 4-for-5 with a run scored. Tanida had two hits, an RBI, and a run scored. Sheeks and Turay singled and scored a run, while Hoo singled and drove in one.
Tomorrow is game two of this three-game series with the Applesox. Game time is set for 6:35 PM. It is Family Night, where you can get four general admission tickets, four hot dogs, and four sodas for just $28 dollars. It is also Union Night as we celebrate our local unions. You can purchase tickets starting at 9:00 AM at our ticket office in the left field corner of the stadium.