News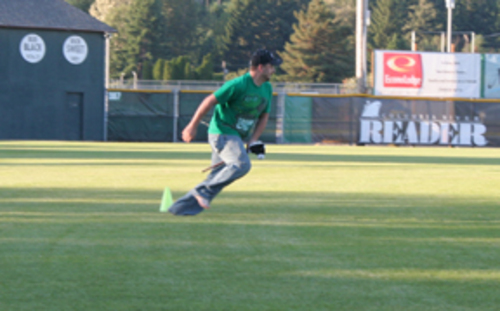 (Longview, WA) – Fans in attendance for KBAM 1270's Country Music Night saw a three-run first and a three-run eighth that helped propel the Cowlitz Black Bears (14-29-1, 11-28 WCL) to a 7-1 victory over first place Wenatchee Applesox (WCL East Division) at David Story Field on Thursday night.
A two-out rally gave the Bears a 3-0 lead in the first. First baseman Jordan Fox (UC Irvine, So.) scored on an RBI single by catcher Mike Turay (Nevada, So.), followed by right fielder Ryan Sheeks (Concordia, Jr.) crossing home on a single from shortstop Michael Hoo (Cal Poly, Fr.). Turay scored on an error by Wenatchee starter Tim Culligan.
Wenatchee's only run came on an RBI single from Clayton Eslick in the fifth, but the Black Bears took it right back in the bottom half when second baseman Spencer Ofelt (Western Nevada, So.) scored on a fielder's choice.
Another three-run frame, this time in the eighth, put the game away for the Bears. Turay drove home two with a double down the left field line, and then scored on Hoo's sacrifice fly to left.
Kevin Bosson (Cal Poly Pomona, So.) earned the win (3-1), allowing just one earned run off eight hits and three walks, and struck out two in 7.0 innings. Mark Garcia (UC Riverside, Fr.) earned his second save, tossing 2.0 scoreless innings. Culligan (3-3) took the loss for the Applesox, giving up four runs (two earned) off seven hits, and struck out two in 5.0 innings.
Fox led the Bears on a 3-for-3 night, followed by Turay, who went 2-for-4 with a double and three RBI. Hoo also had two hits and drove in two. Ofelt, third baseman Stefan Sabol (Oregon, Fr. to be) and left fielder Matt Russell (Cal Poly, Fr.) each had a single to round out the Bears 10 hits.
The win on the field was just part of the night's festivities as fans enjoyed Country Night, sponsored by KBAM 1270 AM. New games like 'Finish the Lyrics' and 'Pony Barrel Roll' were introduced and four sets of concert tickets were given away. KBAM was kind enough to donate tickets to Billy Currington, Uncle Kracker, Kenny Rogers, and Travis Tritt for our on field games and giveaways. Country music played through the speakers at David Story Field all night and Black Bears staff and interns wore their cowboy boots and hats.
It was also Thirsty Thursday and fans of legal age were able to enjoy beer for just $2. Except for those on the Bob's Sporting Goods Party Deck, who grabbed draft beers at a dollar a pop, like Georgia Pacific-Wauna who had a group on the deck tonight. Twin City Bank enjoyed catering in the Party Suites, and were flanked by BiCoastal Media in suites one and four.
The Bears hit the road for three games, but return home next Monday for the final four games of their inaugural season. Monday the Bears host the WCL Portland All-Stars for Kids Club Monday. All members of the Kids Club get in for free, and every kid under 15 eats for free. Tuesday is the start of a three-game series against the other first-year team in the league, the Walla Walla Sweets. It's $2 Tuesday, where fans can get $2 general admission tickets, $2 hot dogs, $2 soda, and $2 beer.
Wednesday is Host Family Appreciation Night and Family Night. Fans can get four general admission tickets, four hot dogs, and four sodas for just $28. We will be honoring and thanking our host families for taking in our Black Bears over the summer with pre-game recognition and an All-You-Can-Eat extravaganza on the Party Deck.
Thursday, our final game of the season, will be Thirsty Thursday and Fan Appreciation Night. We will have gifts and giveaway's galore for those in attendance, so come on out and enjoy $2 beer and say goodbye to the 2010 Black Bears! The ticket booth is located in the left field corner of David Story Field and is open 9:00 AM to 5:00 PM every week day, and 9:00 AM until the 7th inning every game day. All games next week are set for 6:35 PM and gates open at 5:30 PM.