News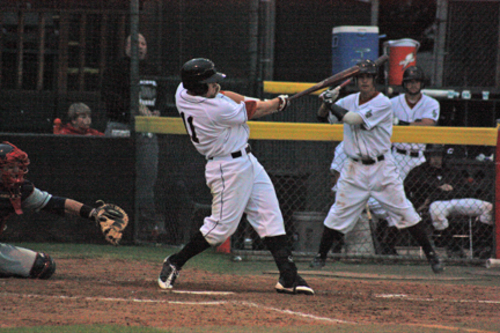 (Bend, OR) - Down 4-2 going into the fifth, the Cowlitz Black Bears (15-29-1, 12-28 WCL) scored at least one in all of the final five innings to take the 10-5 West Coast League victory over the Bend Elks at Vince Genna Stadium on Friday night. This is the second consecutive win over a top WCL team after the Bears defeated the Wenatchee Applesox 7-1 on Thursday.
First baseman Jordan Fox (UC Irvine, So.) extended his hitting streak to nine games after getting a lead off single in the first. He came around to give the Black Bears their first run of the contest two batters later, and catcher Mike Turay (Nevada, So.) drove in another as Cowlitz took a quick 2-0 lead.
But the Elks were able to get to Bears' starter Chris Dennis (Portland, Jr.) in the bottom half of the frame. With two outs, Donald Collins reached on an error by shortstop Michael Hoo (Cal Poly, Fr.), and came around to score on a double by Tommy Richards. Mitch Karraker tied it up with a sharp single that plated Richards. Single runs in the second (Travis Higgs home run) and fourth (Stephen Halcomb RBI double) gave the Elks a 4-2 advantage.
Dennis settled down over the next three innings as the Bears offense heated up. In the fifth, Fox was hit by a pitch to start the inning and advanced to second on a wild pitch by Elks' starter Jacob Clem. Sabol singled to plate Fox and cut Bend's lead to just one 4-3. An inning later, Hoo drove in Turay to tie it up. Turay reached base on an error that advanced him to second, then took third on a wild pitch from Clem during Hoo's at bat.
Center fielder Ryan Sheeks (Concordia, Jr.) had three extra base hits on the night, including a triple in the seventh that put him in scoring position for Sabol, who singled him home to give the Bears their second lead of the night, 5-4.
A four-run eighth for Cowlitz put the game out of reach for Bend. With one out, second baseman Spencer Ofelt (Western Nevada, So.) doubled and advanced to third on a wild pitch. Right fielder Casey Watkins (Cal State Fullerton, Fr.) was hit by a pitch to put runners on first and third for the hot hitting Fox. Ofelt scored and Watkins reached third on Fox's single. Sheeks was hit by a pitch to load the bases before Sabol's pop out to second gave the Bears just one more out to play with in the frame. A wild pitch pushed everyone up a bag, allowing Watkins to score. Then, designated hitter Braxton Miller singled home both Fox and Sheeks to make it 9-4 Bears.
Bend's Garrett Queen homered in the bottom of the eighth, but an insurance run off three consecutive singles from Hoo, left fielder Jamison Rowe (Nevada, Fr.), and Ofelt in the ninth secured the 10-5 victory for Cowlitz.
"Chris pitched great for us tonight," said head coach Bryson LeBlanc. "He battled through the first few innings, but settled down and the team played great defense, which took the pressure off our offense. This was a solid team win."
Dennis (1-3) earned the win, allowing four runs (two earned) off eight hits and a walk, and struck out four in 7.0 innings. Jason Westerberg (Santa Clara, Rs.-So.) pitched well in relief, giving up just one earned run off two hits and two walks, and struck out four in 2.0 innings.
Reliever Nick Laredo (0-3) took the loss for Bend, allowing one earned run off two hits, and struck out one in 1.0 inning. Starter Clem earned the no-decision, giving up four runs (three earned) off six hits, and struck out five in 6.0 innings. The final five Bears' runs came off reliever Logan Scott.
Both Sheeks and Ofelt doubled twice, while Fox and Sabol singled twice. Sabol led the Bears with three RBI and Miller drove in two. The Bears out hit the Elks 14-10.
Cowlitz returns to Vince Genna Stadium for game two with the Elks on Saturday. Game time is set for 6:35 PM.