News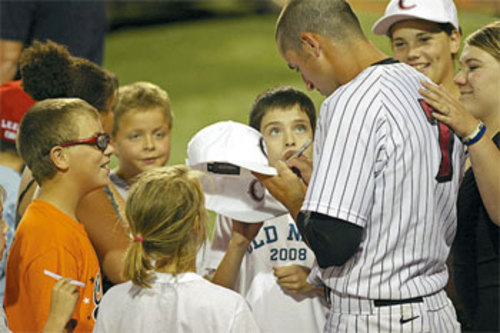 O U T • A N D • A B O U T
SPORTS BY TOM MYKLEBUST
PLAY BALL! 
New baseball Team opens season June 4
Baseball is in full swing, from youth leagues to the professionals, and on June 4th the Cowlitz Black Bears baseball team of the West Coast League will begin a new era in our region, bringing a "brand" of baseball bursting with entertainment on and off the field. 

The team's home, David Story Field, on the Lower Columbia College campus, is already recognized as one of the best places to play and attend games because of its nostalgic style stadium, beautifully maintained playing field, and serene backdrop of trees and evening sunsets. Improvements currently underway, combined with the promise of a festive atmosphere, will surely make Cowlitz Black Bears games the place where families, friends and co-workers will want to be this summer.


Gourmet hamburgers and hot dogs plus specialty items, along with soda and beer will be served and catered party 
packages can be pre-arranged. Lower Columbia College stadium is being remodeled to add 500 more seats, including a party deck (with $1 beer privileges); party suites, where groups can enjoy the game at field level, improved seating with wait service in the Home Plate Club behind the backstop, and a new playground area for kids. Be on the lookout for the Black Bear mascot roaming around the stadium, fireworks on June 4 and July 2, plus prizes, between-inning promotions and more.
Opening day is fast approaching 
Team owner Tony Bonacci is ecstatic about the opportunity of establishing the Cowlitz Black Bears in our region. An attorney, he realizes that much must still be done before June 4, but he expressed confidence in the leadership team he has assembled and the working relationships with local supporters, such as LCC baseball coach Kelly Smith and LCC athletic director Kirc Roland.

Bonacci and his wife, Caroline and their four children live in Phoenix, but plan to spend the summer at games and becoming acquainted with the local area and the community. 

"I love baseball," he said, "but my wife is even more of a fanatic of the game." After years of youth sports, Bonacci knew he wanted to be involved with a team, "but it wasn't until two years ago that it became clear that I would be an owner."
Tony is very friendly, and will be focused on the team's performance and all aspects of the fans' experience at Black Bears games. He said he speaks for the whole organization when he says to fans: "Feel comfortable to say hello at the game."

"
You want to get to Longview" 
Head coach Bryson LeBlanc is familiar with starting up baseball programs. He is among the coaching staff at University of Oregon which recently resurrected its baseball team, absent since 1971. Originally from New Orleans, LeBlanc said 14 years ago his Babe Ruth Baseball coach told him, "You want to get to Longview," where the upcoming Babe Ruth World Series would be held. Bryson's team came up short that year by one play-off game. The first person LeBlanc called when he got the job with the Black Bears years later was his former coach to say, "You'll never guess where I just got hired!" 

Host a player? 
The Cowlitz Black Bears are looking for host families. Coach LeBlanc said he has many fond memories of his host family experiences in St. Louis and Salinas. He still talks to the families regularly, he explained, and can't say in detail what happened on the field, yet remembers vividly the relationship-building that took place with those families and the impact on his life. LeBlanc hopes that his players have the same life changing experience and that they realize how they will also impact their host families' lives.
LeBlanc and the team have many regional connections, for example, pitching coach Todd Naskedov is a Kelso High School and Lower Columbia College graduate. The Black Bears pitching line-up includes LCC standouts Alex Phillips, of Tenino, and Drew Petit, a Castle Rock native (see photos, page 20). Two University of Oregon Duck baseball players from Longview have been helping coach LeBlanc prepare for coming to this area. 

Other Black Bear players will be arriving soon from all over the United States top college programs, including California, Missouri, and Nevada and have been prepped for the energy that is evolving in our community. 

Moving up 
Currently 12 former West Coast League players are on major league baseball teams and more than a hundred are under contract with professional "farm" teams, so be prepared for an atmosphere of anticipation. Anything could happen to these guys, not only at the game but in thei r careers. Be sure to scan the stands for the "scouts." And don't hesitate to ask for autographs, because any of the players may be famous some day!
Longview: A destination 
Also gaining from this new adventure are the LCC baseball program and all community teams that utilize this field, with an enhanced facility and added exposure of this region as a baseball destination. Bonacci sees future travelers coming through Washington and saying, "Let's go to that cool baseball stadium in Longview." 

Cowlitz Black Bearshope to bring a team that the community will be proud of, that will create fun for all ages, and that will foster relationships with local businesses, schools and community volunteers. As evident in the design improvements to the stadium, the Black Bears are adding to what is already good in this community and enhancing the arts and entertainment culture of the Columbia River region. Baseball fields are where people come to be with others and set their busy lives aside for a time. Bonacci says, "We hope to become part of the social fabric of the community."